The ISTIA Award...
At the beginning of 2004, Visions East was invited to submit its abstract and application for consideration in the first Seas event. The International Superyacht Technology and Innovation Award (ISTIA) was created to recognize technical excellence and innovation throughout the superyacht industry.
The inaugural awards were unveiled in May of 2004 and the winners were announced during the first SEAS event in Nice, France. In the first year of the awards program, more than 70 entries were received which were eventually voted down to the six winners and six runners up, in each specific category, that were selected by the editorial team of The Yacht Report.
The Category 1 Winner for Innovation was Visions East, Inc.
---
Category 1


Innovation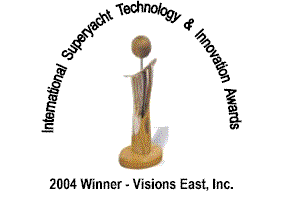 Category 2
Engineering and Construction
Category 3
Software & Systems
Category 4
Navigation & Communications
Category 5
Safety & Security
Category 6
Miscellaneous Equipment
Category 1 – Innovation Winner – Visions East Robotic Coatings The yacht system performs laser surface mapping, plural component spraying of the fairing material, precision milling and sanding and robotically sprays primers and top coats on the exterior hull surface. It makes the coatings process safer and more efficient while computer-controlled robots perform the work.
(Excerpt from The Yacht Report magazine, July 2004)